Cast: "Old Maid's Convention"

Dublin Core
Title
Cast: "Old Maid's Convention"

Description
Cast: "Old Maid's Convention" . Odd Fellows Hall, Bellows Falls, Vermont 27 June, 1917

Contributor
Rockingham Free Public Library
Type
Rockingham Free Public Library
Cataloged Photograph Collection

Rights
The Rockingham Free Public Library does not necessarily own the copyright to the images in the Cataloged Photograph Collection. The images are provided for educational use. Many of them did not include a formal copyright notice. The images may be protected by U.S. Copyright law (Title 17, United States Code), which governs reproduction, distribution, public display, and other uses of protected works. Uses may be allowed with permission from the copyright holder, if the copyright on the work has expired, or if the use is fair use or within another legal exemption. The user of this work is responsible for compliance with the law. The user agrees to hold the Library harmless
Any display, publication or reproduction of the images must credit Rockingham Free Public Library's Cataloged Photograph Collection as the holding repository.

Publisher
Rockingham Free Public Library
Still Image Item Type Metadata
Physical Dimensions
June 27, 1917

Original Format
Photograph
Files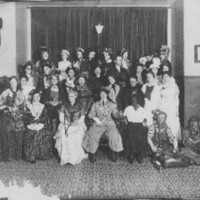 Collection
Citation
R.C. Bristol , "Cast: "Old Maid's Convention"
,"
Rockingham Library Historic Photograph Collection
, accessed August 16, 2018,
http://rockinghamlibrary.org/history/items/show/12
.