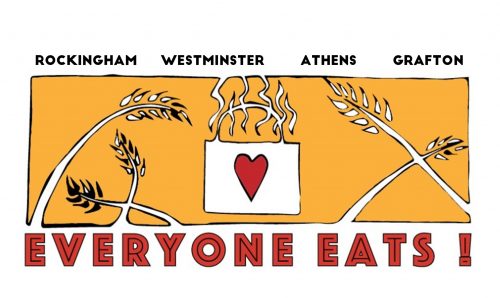 This week you can pick up meals:
Wednesday (December 2) Parks Place from 5pm – 6pm
Friday (December 4) Parks Place from 10am – 11am
Meals are available on a first-come, first served basis.   Limited amounts of vegetarian meals are available at each pick-up location!

Each person can also pick up meals for up to three other households.
Everyone Eats is new way to feed our community where local restaurants prepare the meals.
If your ability to get food has in any way been impacted by the COVID-19 pandemic, you qualify to participate in the program.

Taking part in this project supports our local economy by funding local restaurants, farmers, and food producers.
Questions? sam@rockinghamlibrary.org   
  (802) 463-4270
WNESU:  FREE MEALS for ALL CHILDREN 18 & under. Meals are available for daily pickup for any child.
Beginning TUESDAY 12/1/2020, daily curbside pickup of breakfast and lunch is available at the following locations:
BFMS: 1-2PM

BFUHS: 1-2 PM (Families with transportation are encouraged to come the the high school to ensure we have enough meals)

SRES: 1-2 PM

GES: 12-PM
The Farmers to Families food box program has been extended through the end of the year! Starting November 16th, Farmers to Families food boxes will be available at multiple daily food distributions throughout the state.
To keep wait times to a minimum, reservations will be required for the distributions. To register and see the dates and locations, please visit https://humanresources.vermont.gov/food-help or call 802-476-0316 for assistance.
Each reservation will receive 1 box with about 30 lbs of food, including fresh produce, dairy products, and meat.
You are welcome to pick up food for other families who are not able to make it to the pickup site, just be sure to make a separate reservation for each household you would like to pick up for. Each reservation is for one set of food.
 This program will likely end at the end of December, so we encourage people utilizing it to look into other resources for the new year. There are many excellent programs that can help. For more ways to access the food you need, visit: https://www.vtfoodbank.org/gethelp
Vermont Everyone Eats is funded by the federal Coronavirus Relief Fund and made possible through a grant provided by the Vermont Agency of Commerce and Community Development to Southeastern Vermont Community Action (SEVCA).
The Springfield Family Center and Chester Helping Hands have partnered to be a hub for the Everyone Eats program! With these funds, the goals are to Provide nutritious meals to Vermonters during this difficult time. Provide a source of income for restaurants who have been so negatively impacted by COVID-19. Provide Vermont farmers and food producers an opportunity to increase sales – 10% of the ingredients are purchased from Vermont producers.
This amazing program is running in Springfield via the Springfield Family Center, Londonderry via Neighborhood Connections, Ludlow via Black River Good Neighbors, Windham via Windham Cares, Rockingham/Bellows Falls via Rockingham Helping Helpers and Our Place, Greater Falls Connection, Bellows Falls Senior Center, Grafton via Grafton Community Church and Chester via the Chester Helping Hands.