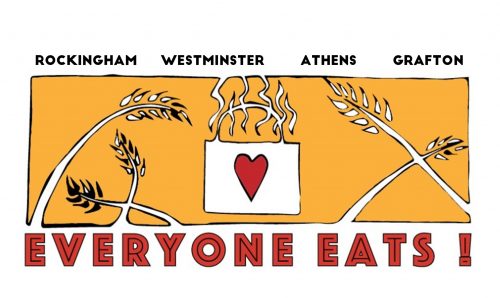 Meals this week can be picked up
Wednesday (March 10) Parks Place from 5pm – 6pm

Friday (March125) Parks Place from 10am – 11am



**Be sure to go to the front of Parks Place to pick up meals**

No sign-ups or registration necessary! You are eligible to receive meals from Vermont Everyone Eats if your access to food has been negatively impacted by COVID-19 or otherwise are experiencing food insecurity.  Here's how you can request meals.Meals are available on a first-come, first-served basis – so be sure to get there early, they have been going fast! Remember: each person can also pick up meals for up to 3 other households!
If you have any questions, don't hesitate to reach out to us.  sam@rockinghamlibrary.org ,  (802) 463-4270.
If you're not sure where to go, check out the Vermont Everyone Eats Distribution Directory to find a distribution site near you. The directory is sorted by county and you can find contact information for each site by scrolling to the right.  If you have trouble navigating the distribution directory, you can call 2-1-1- and they can help you find the distribution sites that are most convenient for you.
Vermont Everyone Eats is funded by the state of Vermont and made possible through a grant provided by the Vermont Agency of Commerce and Community Development to Southeastern Vermont Community Action. The Springfield Family Center and Chester Helping Hands have partnered to provide VEE for Rockingham, Grafton and Athens, and Westminster as well as Springfield and Chester.
Need help?  Vermont 211 is here! In addition to helping connect Vermonters with resources 211 is offering free counseling for people having a tough time with COVID and all the changes that come with a worldwide pandemic. Simply call 211 and see how they can assist you. 
Farmers to Families food boxes will be available at multiple daily food distributions throughout the state.
To keep wait times to a minimum, reservations will be required for the distributions. To register and see the dates and locations, please visit https://humanresources.vermont.gov/food-help or call 802-476-0316 for assistance.
Each reservation will receive 1 box with about 30 lbs of food, including fresh produce, dairy products, and meat.
You are welcome to pick up food for other families who are not able to make it to the pickup site, just be sure to make a separate reservation for each household you would like to pick up for. Each reservation is for one set of food.