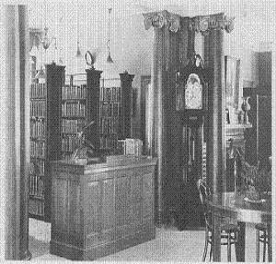 History of the Rockingham Free Public Library
On October 28, 1799, the Rockingham Library Society was established by a small group of settlers from the village of Rockingham, which had a population of approximately 1,000. Shares were sold at $1.00 each. During the following decades, the Library grew and on September 6, 1887, it officially became the Rockingham Free Public Library. The Library Room opened in 1888, on the first floor of the newly built Opera House.
In 1908, Rockingham citizens voted to purchase land on Westminster Street, to provide an annual allowance for library maintenance, and to accept the gift of $15,000 from the philanthropist and steel magnate Andrew Carnegie to build a library. Designed by McLean and Wright of Boston, Massachusetts, it became one of only four public libraries in Vermont to be built with Carnegie funds.
On October 8, 1908 the Library's cornerstone was laid before a large gathering, including the Librarian, Mrs. Nellie Plantier. A year later, on November 23, 1909, the formal dedication was held in the brand new Library, with A.N. Swain, President of the Board of Trustees, presiding. Two decades later, in 1929, a Children's Room was added to the rear of the Carnegie building, and in 1968, a two floor addition was built to provide a new meeting space and an expanded Children's Room.
In 2013, after Town residents voted a bond, the Library underwent a major renovation to make the building energy efficient, ADA, safety and code compliant. The 17,000 square foot building was made healthy by eradicating mold and installing a new heating, AC and ventilation system (HVAC). Electrical and plumbing systems were updated, insulated windows and doors were installed, waterproof insulation added to walls and ceilings, and an addition was built to make room for the new elevator. Now there is handicap accessibility to all three floors. The large Meeting Room occupies the top floor, the Youth Program Room is on the ground floor, and there are two handicap accessible restrooms near each meeting room. Both of these rooms are used for Library programs and are available for use by local organizations.
Along with literacy and educational programs for children, teens, families and adults, the Library offers a wide variety of services and reading materials. The collection of approximately 44,000 titles ranges from books, magazines, movies, and audiobooks, to electronic resources such as eBooks, downloadable audiobooks, and online research databases. Other services include general reference and genealogical research assistance, and help with the catalogued collection of photographs, postcards, local history reference materials and local newspapers on microfilm.
The Library now plays a major role in providing access to the internet, through pcs in the Library and wireless access. Instructions are provided on how to use the wide variety of devices, applications, and new technologies. The Library was fortunate to be a recipient of the Fiber Connect Grant which made possible the installation of a broadband fiber optic cable. Now it is much faster to stream video or upload content, and with the many computer terminals and simultaneous users, especially after school, the capacity of this broadband allows the Library to handle multiple users efficiently.
Today, the Library provides a wider variety of services than ever before, and continues to be a thriving center of activity, serving all the residents of Rockingham, from Bellows Falls to Saxton's River to Cambridgeport and everywhere in between.
Célina Houlné, Library Director Updated May 24, 2016